IF YOU'RE PLANNING A CHILLED OUT DAY, YOU'LL LOVE THIS HELPFUL BLOG OF THE 10 BEST WEDDING GARDEN GAMES
So you're planning a summer wedding. You're looking for chilled and fun vibes. You've got some outdoor space and want to make the most of it. You want your guests to have an epic time but don't want to spend a fortune on activities. No problem! I've been shooting weddings for over a decade whilst also volunteering as a youth worker, and my experience in both has helped me come up with the ultimate list of the 10 best garden games your guests will love. 
First of all, I think it's important to let go of any traditional formal ideas about what a wedding should look like. It doesn't just need to revolve around those expected elements such as speeches and a formal three-course dinner. It's 2022 now and we can be a bit more creative about what a wedding looks like. If you want a BBQ and cake outside on haybales – go for it! If the thought of speeches doesn't float your boat just leave them out. Similarly – if the thought of a big water fight sounds like the most fun ever – why not go for it?
Let's strip it back to basics and think about what your most loved people in the world would ENJOY on your day because after all, you want them to come and have fun! Your guests are with you for a long time and whilst they will enjoy a good natter with friends and family, they will also appreciate some opportunities to do some silly things with those people and make lasting embarrassing memories. 
Just before we get stuck in – I highly recommend that you ask around your friends and family if anyone has any of these before buying new. Also, have a look on Facebook marketplace or eBay as they are often bought for a wedding and then surplus to requirements afterwards. However, all of these ideas are less than £50. There are also companies that hire these games out. 
So here is a little list (In no particular order) the best 10 wedding garden games:
1. Tumble Tower
Always, always a crowd-pleaser. It draws a crowd of excited people making 'ooos' and 'aaas' and adding helpful comments like 'Oh it's going this time Sue' or 'If you touched it you have to go for it, Alan!'. By the time the game is ending everyone will be highly invested.
Smyths Toys – £39.99  
See more from this wedding here.
2. Ping Pong/Table Tennis
The great thing about table tennis is that it can be a game for a few or a game for many. It often starts as a serious one on one match and soon there are 17 people playing an around the table match. You can get a simple set that attaches to any table so no need for an actual table tennis table. This set is tried and tested and is great! 
Also – why not buy some extra ping balls and have some cups at the ready for a round of beer pong!
Argos – £12
See more from this wedding here.
3. Tug of War
Now I have to say I have only had this once but I think it made the best group shot I've ever had! It was AMAZING! Everyone was so competitive and got really stuck in. All you need is a long bit of rope and voila!
Chestnut Mill – £29.55
See more from this wedding here.
4. 4 in a Row
An absolute classic and for good reason! This is a real crowd pleaser and as the day goes on and the drinks flow, the tactics get less and less and the confusion and laughter grow. This is a real favourite of mine. You can see more from this epic wedding here. 
Matalan – £35
See more from this wedding here.
5. Sack Race
A sack race doesn't only have to be for a school sports day! Grab some hessian sacks and just leave them laid out and your guests' imaginations will do the rest. Also – SPACE HOPPERS would be a great addition too!
Ordnance Survey – £24.99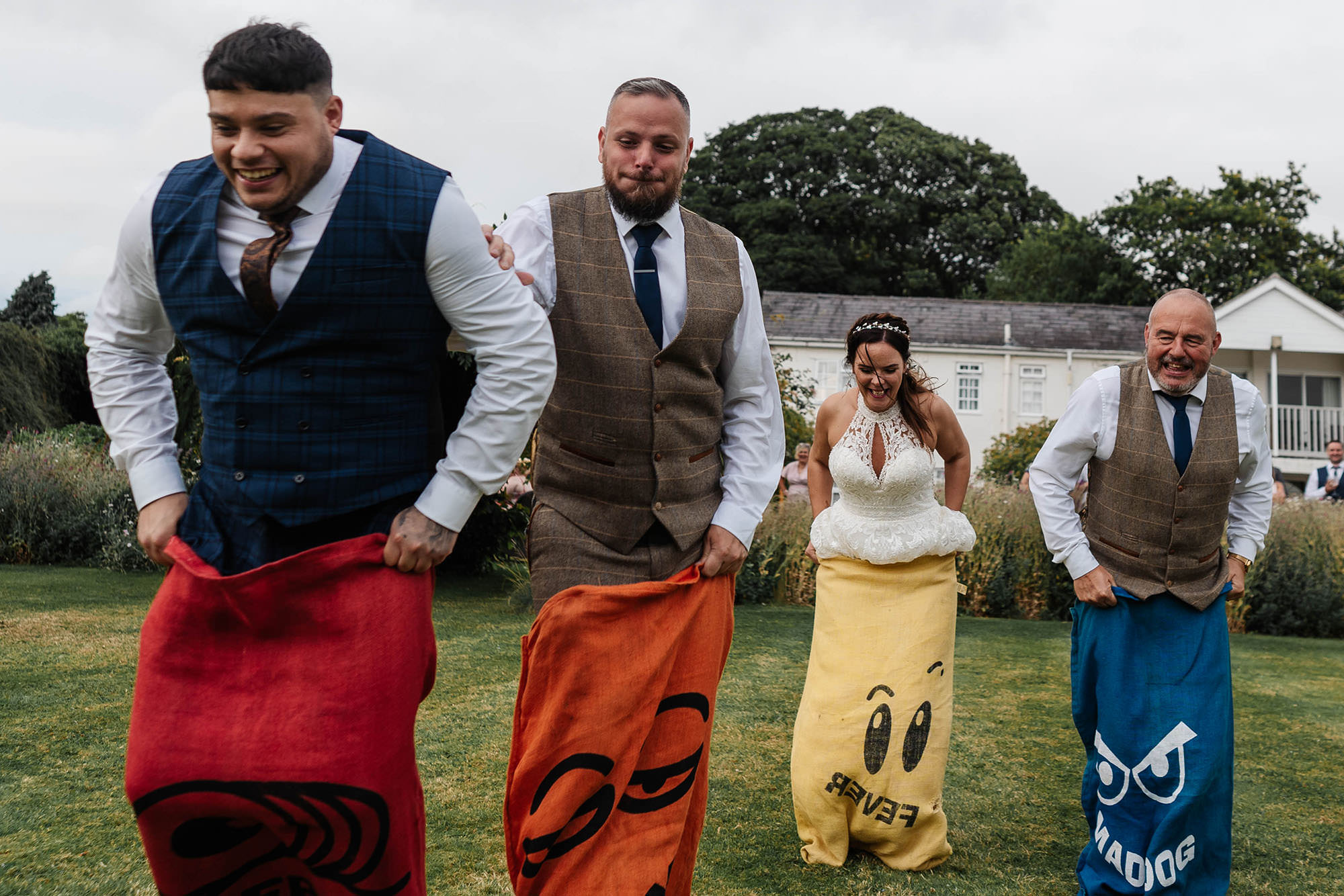 6. Tin Can Alley/Coconut Shy
Bringing the best of the village gala to your wedding day with the classic 'throw things at an item and see how many fall down' game! I personally love a tin can alley because the photos always look epic but a coconut shy would be cool too!
The Works – £5
See more from this wedding here.
7. Limbo
Limbo, limbo, limbo – how low can you go? Watch the children perfectly bend under the limbo whilst the adults attempt and fall and then stand holding their backs wondering where their childhood went.
Scout Store – £25
See more from this wedding here.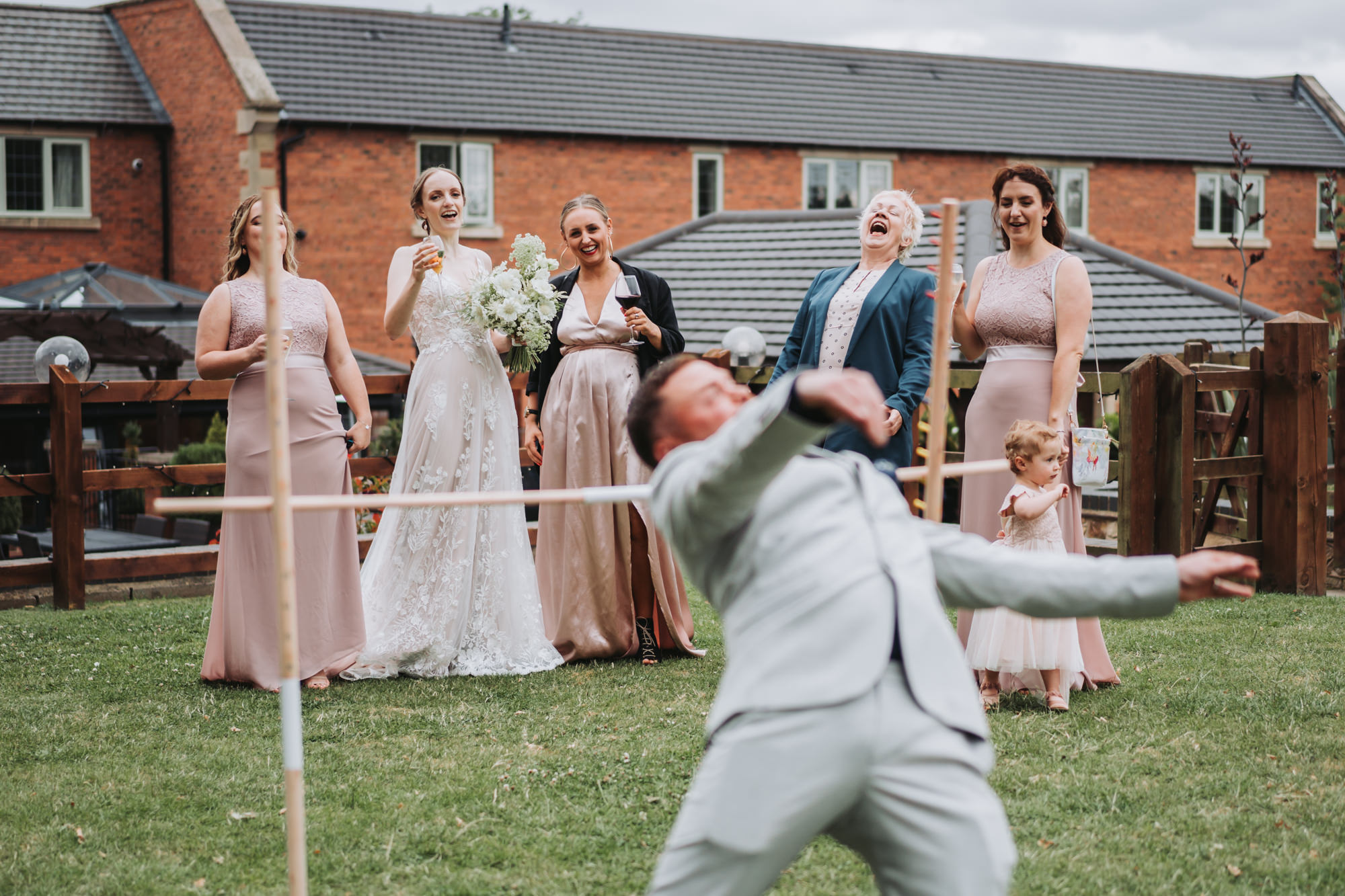 8. Bubble machine/wands
A bubble machine is a great addition to any outdoor gathering. No one can resist trying to pop those bad boys. Large wands are also fab – the wand here made the most amazing shapes and is sure to be a crowd-pleaser for any age.
Large wands (not pictured here) – The Range – £3.79. My granted used to make us bubble wands with a coat hanger and fill a washing up bowl with water and washing up liquid so there are definitely more DIY versions of this too.
9. Facepaints, glitter bar or fancy dress
Or even ALL OF THE ABOVE! The first wedding I ever shot with a glitter bar had a queue full of men with beards and I think that tells you everything you need to know about how many people will enjoy it. Facepaints work for all ages and fancy dress is always well received. Now of course the best way to do this is to hire a professional face painter but if your budget doesn't stretch try asking around and seeing if any of your friends could help out. 
Hobby Craft – £22
See more from this wedding here.
10. Twister
I'm sure everyone owns or knows someone who owns a twister game. In fact, ours came from a charity shop! It might be worth having some bean bags around to weigh it down in case it's windy but this is a great game for all ages.
Smyths Toys – £11
I hope you have enjoyed this blog of the 10 best wedding garden games and it gives you some ideas you and your guests will love.