As a photographer, I haven't been to any venue quite like The Tipis at Riley Green. As you may have guessed by the name, it's a tipi venue in the heart of the Lancashire countryside. It's accessed by a private drive and surrounded by 8 acres of grass, meadows and oak trees, which makes it feel extremely secluded and peaceful. The icing on the cake (see what I did there?) is that it is a pet-friendly venue – I may be biased here, but photographing pets on a wedding day is one of my favourite things ever!
I had the pleasure of visiting Ellie at the Tipis recently. I'm sure Ellie is super busy, but she found the time to give me such a warm welcome both to the venue and to Lancashire. I have recently moved here from Yorkshire and it's really lovely to be able to go and visit some of the venues. I really hope to be doing wedding photography at The Tipis at Riley Green very soon.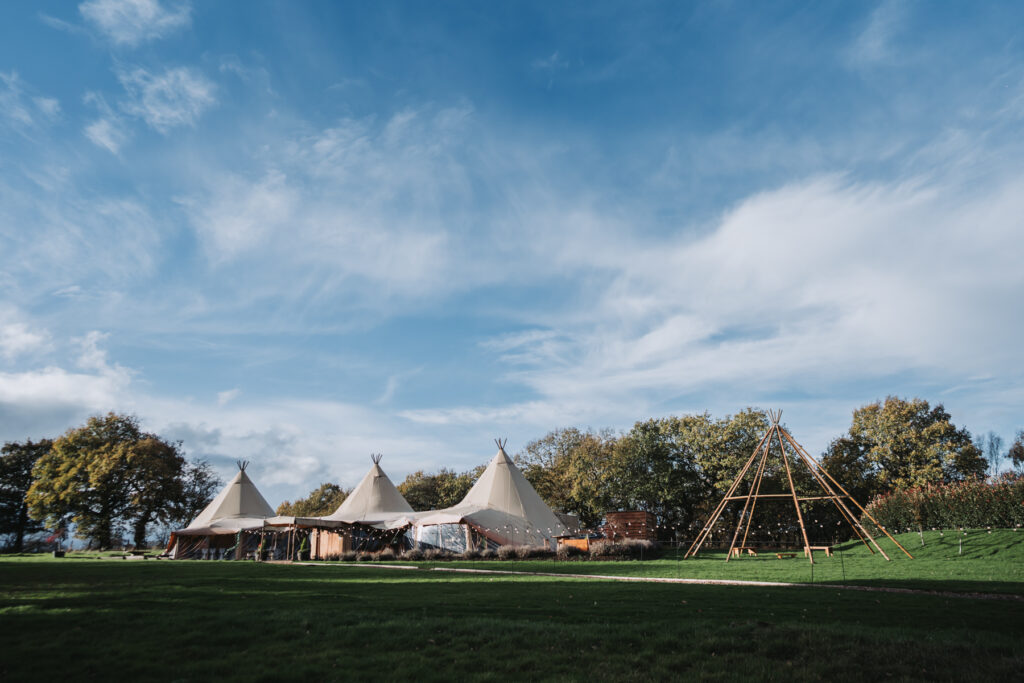 Getting ready at the Tipis at Riley Green
It's worth saying that the Tipis at Riley Green don't have a location for getting ready. However, don't worry! There are plenty of hotels and AirBnBs nearby which would be ideal for prep. Alternatively, you can hire a canal boat to use both to get ready and arrive at the venue.
The ceremony
I absolutely love photographing outdoor ceremonies, and the Tipis at Riley Green have the perfect location for this by the oak tree. It must make the most beautiful space to get married! If the weather isn't quite good enough, or if you prefer the idea of an indoor wedding, the ceremony can also happen inside the Tipis.
Outdoor space
The Tipis at Riley Green have lots of outdoor space to enjoy. There's loads of outdoor seating nestled under the festoon lighting and bright cream bunting. There is also a swing for you and your guests to enjoy. They have a fully licensed and well-stocked bar and luxury toilets. The large amount of outdoor space is perfect for some games and fun! The canal is a short walk away too, should you fancy venturing down to the water.
The food and party
The Tipis at Riley Green work with D'vine Catering and their menus sound delicious. Whether you prefer a BBQ, sharing platters or a traditional three course dinner – they have it all. You can view their brochure here.
The Tipis at Riley Green have plenty of seating for up to 130 people. You can have the wedding breakfast laid out in round tables or in banquet table style. If you want to invite extra guests in the evening, the venue can accommodate up to 220 people. The DJ is included in the wedding package too, so no need to find any alternative evening entertainment if you don't want to.
Where to stay
There are lots of hotels available locally including the Premier Inn at Whittle-e-Woods, the Holiday Inn Express at Walton Summit, Stanley House Hotel & Spa and Samlesbury Hotel. As I mentioned, you can also hire a canal boat so you can just take a little stroll down to your bed at the end of the night.
I really love this venue and I hope you do too! Check out more Ribble Valley and Lancashire venues here. If you're looking for a wedding photographer, you can contact me here. I'm offering a £200 discount on my first 3 full day bookings at The Tipi's at Riley Green.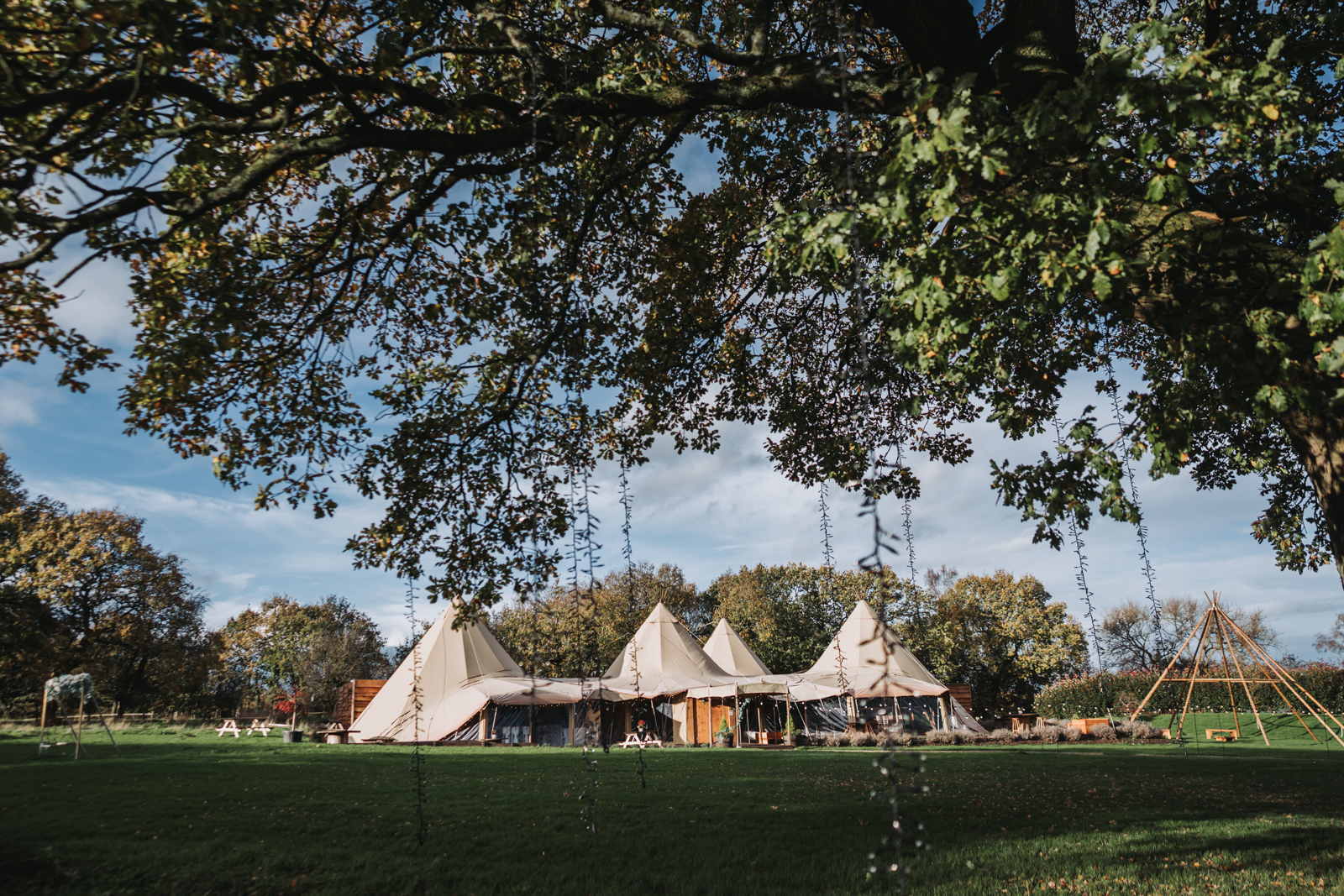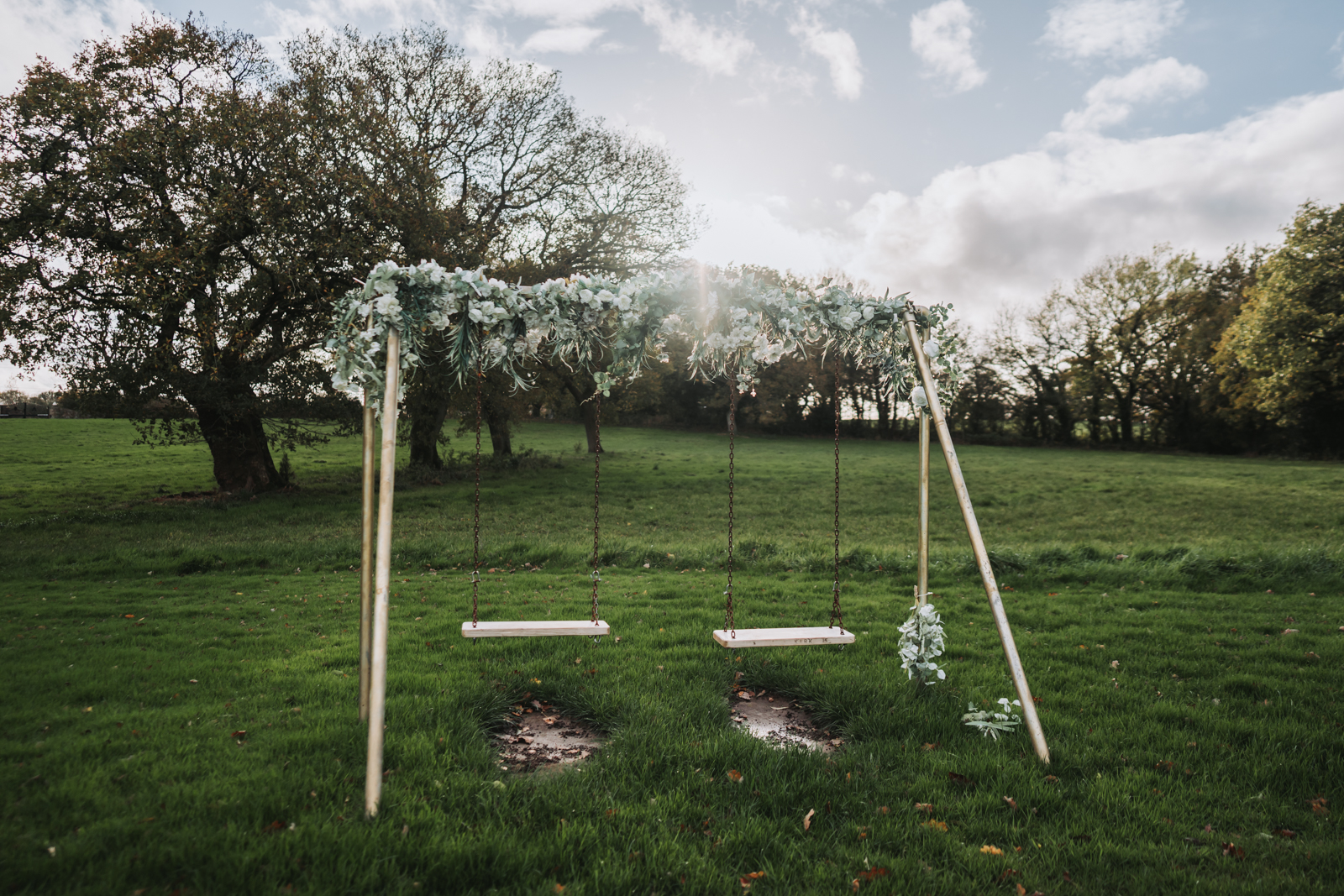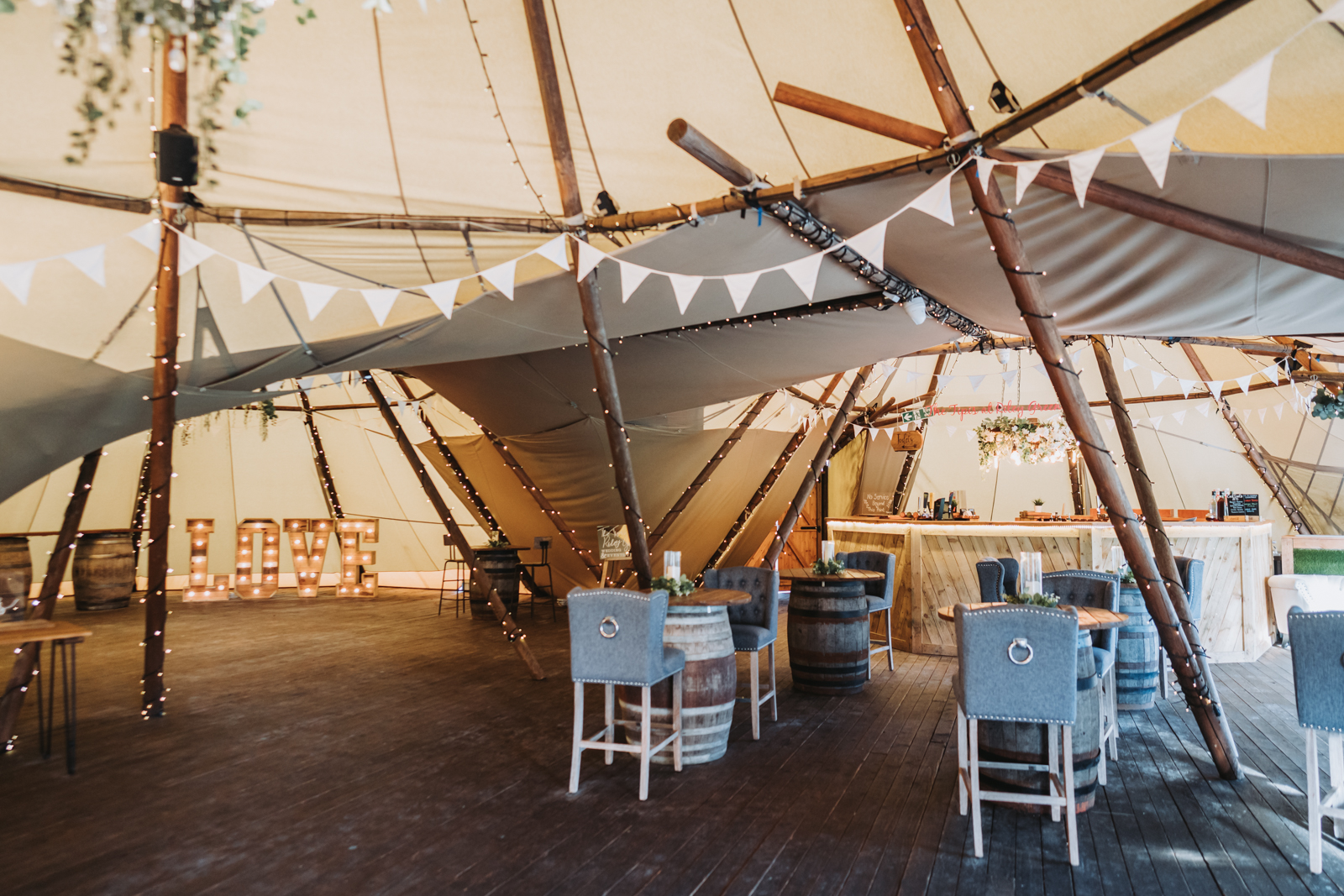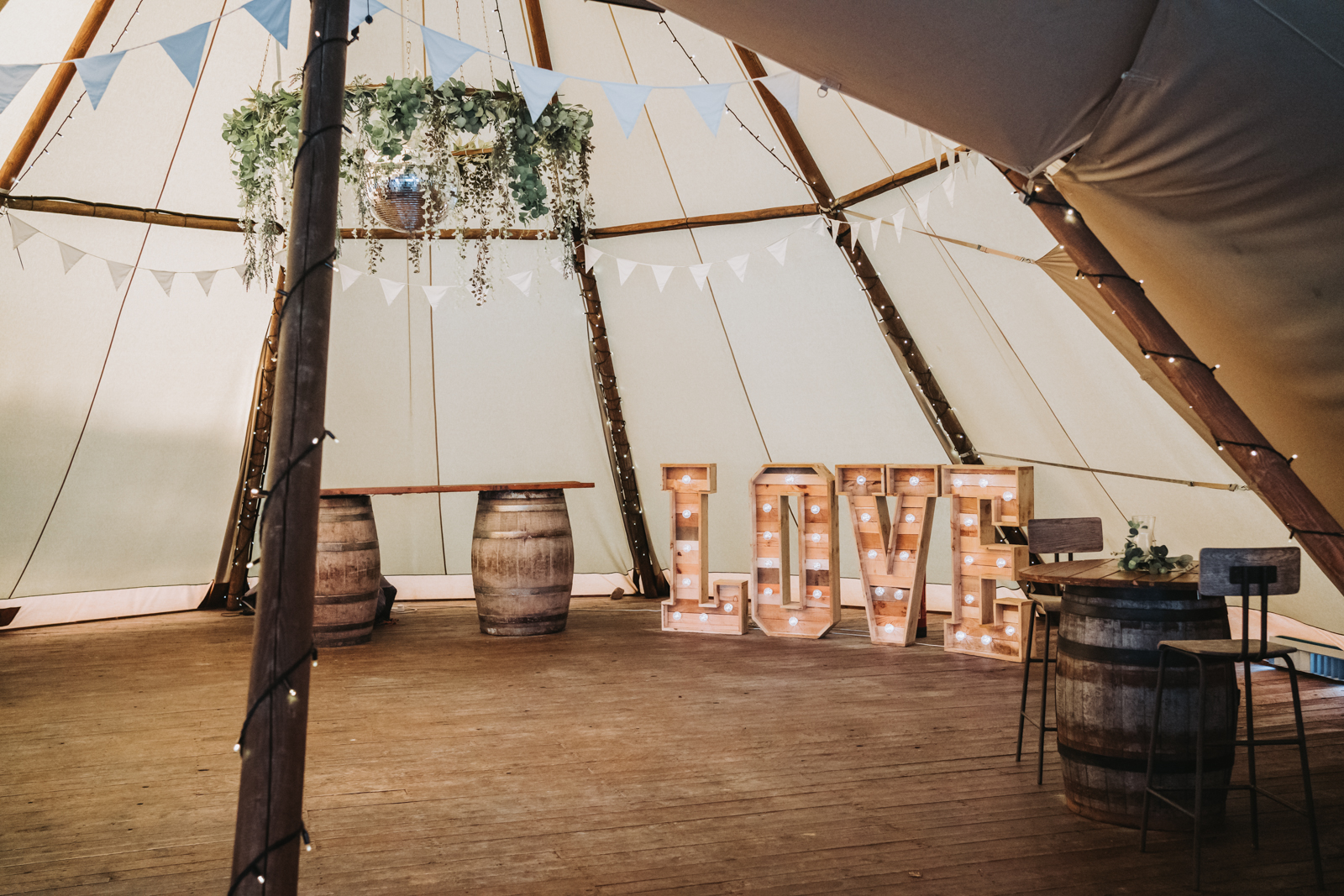 5 things I LOVE about tipi weddings:
They look so pretty!
They really do – both inside and out! I absolutely love how tipis look in the background of photographs. Inside, the twinkly lights, foliage and open fires look so pretty. They make such a lovely space for your guests to enjoy.
Get that festival vibe!
Do you love Glasto? Leeds Fest? Download? Or maybe you're a smaller festival fan? Whatever it is you enjoy, bring those feels from the festivals right to your all-time favourite day. Music, food, dancing and staying up to see the sunrise are all possible at a venue like this.
Be at one with nature
It may sound cheesy, but it really is lovely to have your wedding day nested amongst the trees.
Open fires and fairy lights
I really love these because as well as being pretty to look at, they also look absolutely gorgeous in photographs.
They are the opposite of stuffy and boring
I have never been to a boring tipi wedding. The very nature of them is fun. People mill around in and out of the tipi, enjoying the space and having fun. The lack of black tie formality helps guests relax and really enjoy the day. For more tipi wedding inspiration, check out this wedding from The Fix and Goose in Chesterfield or this wedding from Timble in Leeds.