Hi, I'm Anna and I offer wedding photography at Hobbit Hill in Clitheroe. It's a beautiful, unique, charming modern barn set in the middle of a 150 acre working farm in the heart of the Ribble Valley. The owner's family suggested  that an unused field would be a perfect wedding venue, and their vision is now a gorgeous reality thanks to lots of hard work and creativity. 
I've recently relocated from Leeds, Yorkshire to Preston, Lancashire. My husband is originally from Preston and the pandemic made us want to move to be nearer our family. It also means that I now live nearer the beach (my favourite place!) and get to explore lots of new wedding venues here.
I went to visit the lovely Laura at Hobbit Hill. She was kind enough to reply to my random email explaining that I'd like to get to know my new local venues that I'd LOVE to photograph and asking if I could come and meet them. She graciously welcomed me for a visit. The drive up to Hobbit Hill is just stunning: it feels so peaceful and calm. If you are looking for a venue in Lancashire, I would highly recommend a visit here.
Getting Ready At Hobbit Hill
The bridal suite is a peaceful space to get ready on the morning of your wedding, and is located near the main barn, away from the other guests (and any prying eyes!). Laura explained that they also have had planning permission granted to create an accommodation annexe, with a full bridal suite and some bedrooms – the plan is that this will be built to the right of the barn. It'll be an amazing addition to an already incredible space.
Hobbit Hill Wedding Ceremonies
Hobbit Hill has two options for your ceremony. There is a room for services inside, but as I visited out of season, this wasn't set up for a wedding. It has gorgeous views though and is definitely a lovely ceremony option.
The alternative is just a short walk from the barn, where you'll find a little wooded area. Here, the owners have built a beautiful outdoor ceremony space. It is so peaceful and a bit magical. The festoon lights are the perfect romantic addition to the space and it would look amazing in photographs. Outdoor ceremonies are now legal across the UK at licensed venues, so this is a great option for a summer wedding.
Hobbit Hill is a great venue if you're looking for a chilled out day, and storytelling photography would work perfectly for this. You can find out more about this style of photography here.
Outdoor Space At Hobbit Hill Weddings
After the ceremony, you might have a drinks reception. (I have to say here – I am a big supporter of all couples planning the day they want rather than just following a historically imposed timeline, so if you don't fancy a drinks reception, don't do it!) At Hobbit Hill, there is plenty of space to enjoy over the course of the day. There's an outdoor seating area in front of the barn which looks over the incredible view, and a field space to the right, too, which I can imagine is perfect for garden games and a go at rounders.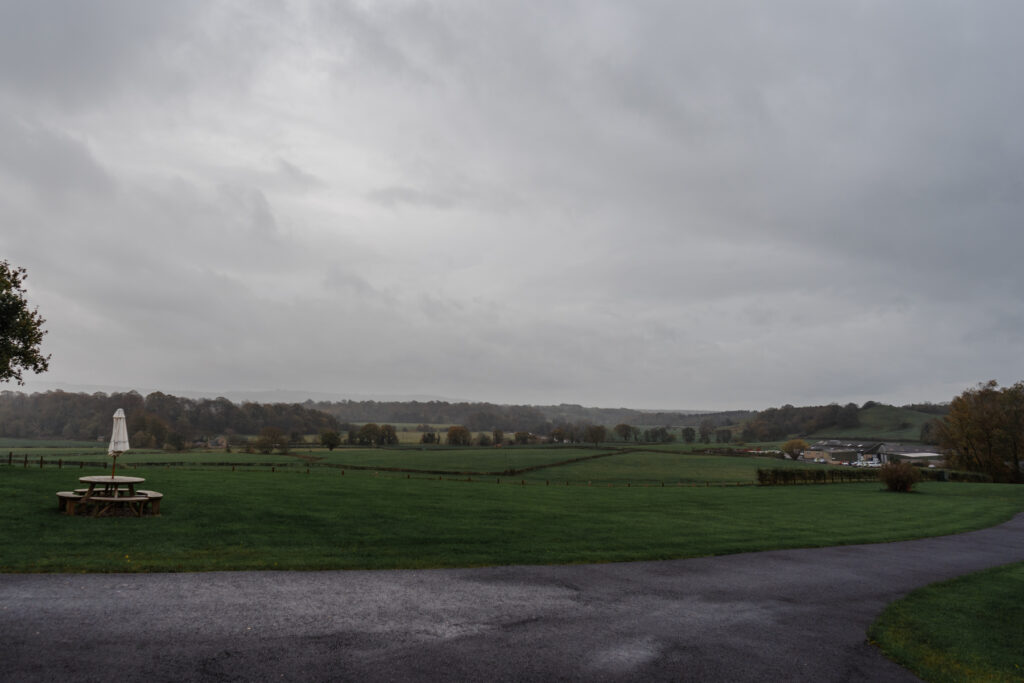 The Barn
The main barn is absolutely perfect. The exposed beams and fairy lights make it feel like an old restored barn, when in fact it's a contemporary building. Here, you'll find seating for 130 people. There is an additional little nook with a wood fire which is lovely and toasty. Hobbit Hill works with partner caterers rather than doing in-house catering and offers a lovely choice of delicious food.
Accommodation
Hobbit Hill has five cabins which each sleep two people – additional accommodation will be coming soon. There is plenty of accommodation locally for family and friends. Couples get the whole venue for two days (weddings can happen on Tuesdays, Thursdays and Saturdays), so you can stay for the night before as well as the night of the wedding.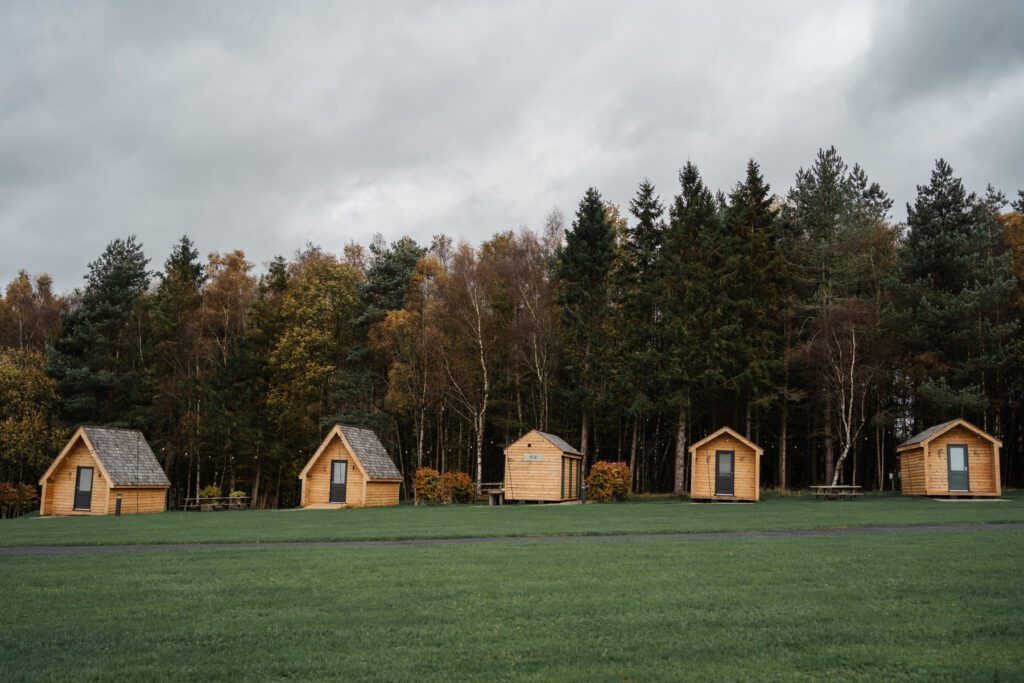 This venue is just perfect. It would be lovely to work here someday (hint hint, wink wink!) so I am offering £250 discount for this venue. Please get in touch here.
If you're still choosing the perfect Ribble Valley venue, take a look at my round-up of the best venues here.