If your planning a wedding at Kilnsey Park, you'll love this for inspiration!
Photographing this Kilnsey Park Skipton wedding was an absolute pleasure. The estate is breathtakingly beautiful, the sun shone all day and the couple and their guests were a joy to spend time with. This is a wedding I wish we could go back and repeat again and again.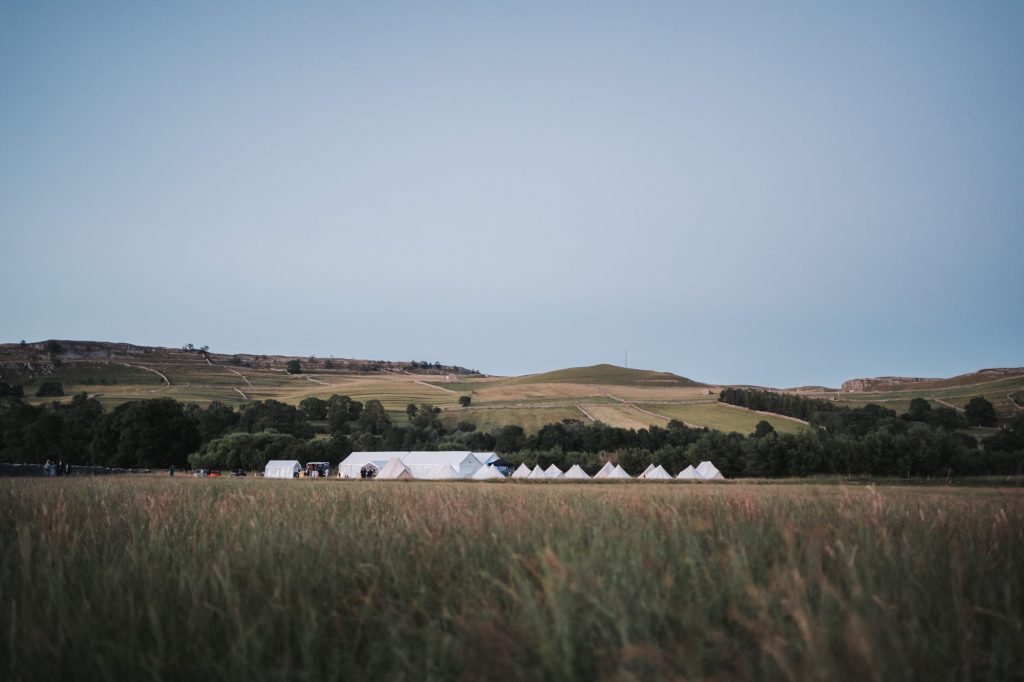 Kilnsey Park is set in a beautiful little village with plenty of self-catering accommodation available locally. There is also an inn and a cafe with a small convenience store, so plenty of amenities for you and your guests.
Kate and Ben decided to get married here because they love the Yorkshire Dales. As one of the best men said, 'there wasn't a wedding venue available in the Dales, so they built one instead!'. It was absolutely perfect. Ben has experience in working with marquees so it was the obvious choice for them to have a marquee wedding at Kilsney Park. It was an absolute joy to be their photographer.
Getting ready at Kilnsey Park Estate
The bride got ready at a cute little cottage called Sikes Laithe on the Kilnsey Park Estate. Upstairs there was a stunning room with plenty of space for everyone to chill, eat (cheese) and have their hair and make-up done. It is definitely one of the most relaxed mornings I've photographed. Two of Kate's Bridesmaids made their gorgeous wedding cake and it was lovely to see them adding all the final touches. Ben got ready in a nearby bunk barn with all of his groomsmen and my lovely second shooter Bella headed over to capture some photos of them.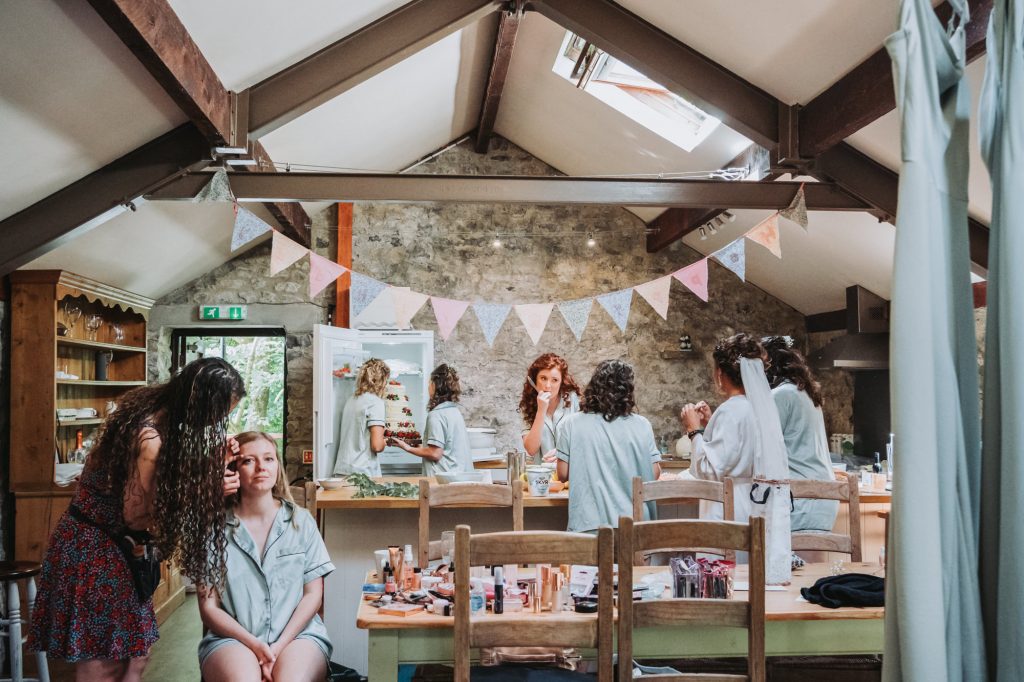 The Ceremony at St Mary's Church
The couple's ceremony was at the Beautiful St Mary's Church just down the road in Conistone. The Church was packed with their family friends and their friend Nathanael did a brilliant talk before the wedding vows. Kate and Ben got a bit emotional during this, but as they only had one tissue on them, they had to share! That's love hey?
The Marquee Reception at Kilnsey Park
The couple then headed off for some portraits before arriving at the marquee for the rest of their Kilsney Park Skipton wedding. All their guests were waiting for them outside the marquee in the sunshine. They had a tasty buffet meal followed by lots of (supposedly 3-minute long) speeches. Every single speech was really funny – there were definitely no googled speeches at this wedding! Every single one was personal and relatable.
In the evening there was lots of dancing and mingling. It was such a wonderful and chilled-out day and an absolute joy to photograph. Thank you for having me Ben and Kate!
It was lovely to be back in Skipton. I have photographed so many weddings in the area now and always really enjoy it. You can see another here.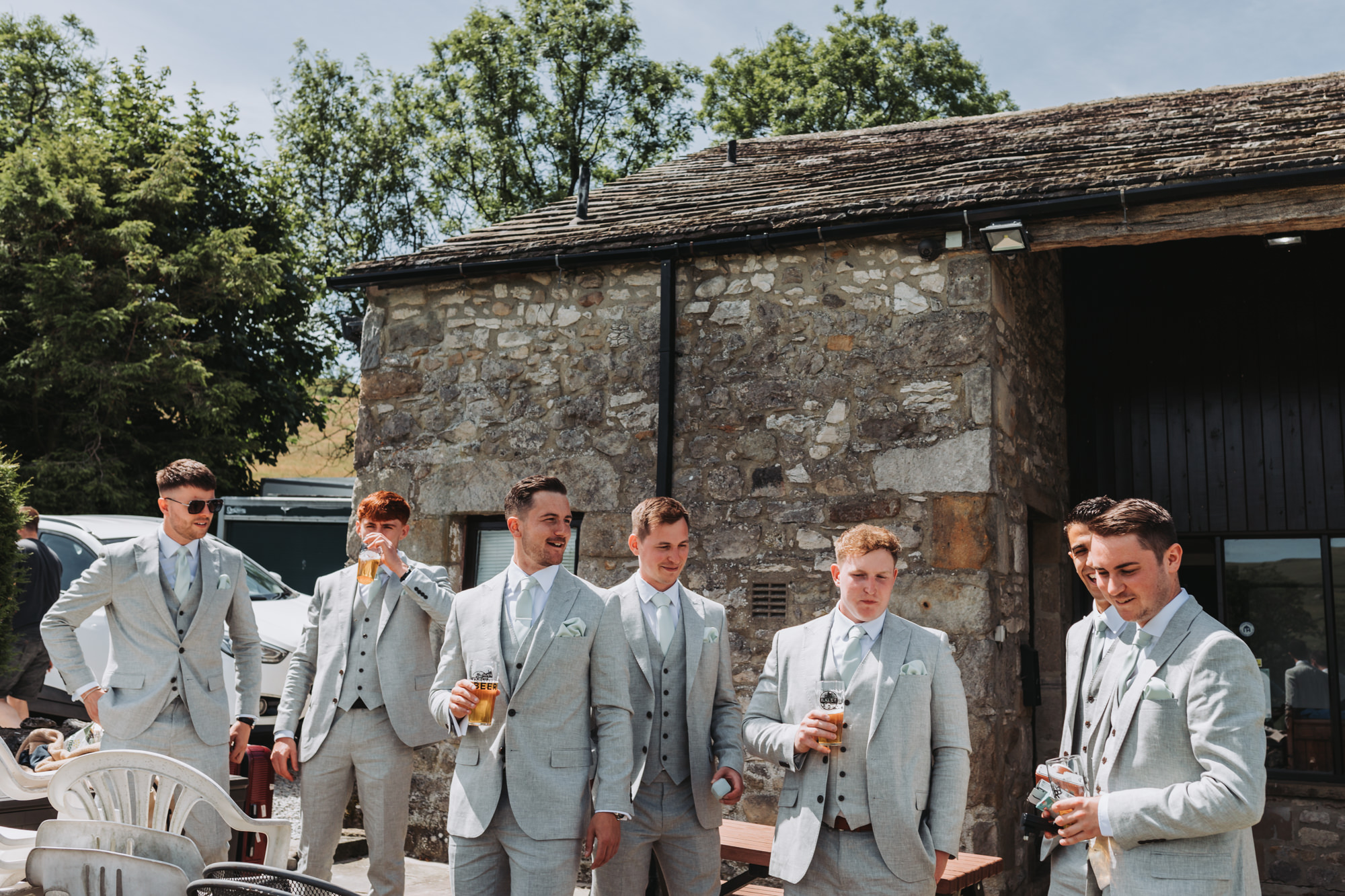 You can find out more about weddings at Kilnsey Park here. For more marquee wedding inspiration, check out this fab wedding.
Looking for a wedding photographer? Please contact me here – I'd love to hear from you!