If you've been looking at wedding photography packages, you will probably have noticed that some photographers include an engagement shoot in their packages, while others do not. It must seem confusing as to whether or not this is something that you need. In this blog post I'm going to explain why I don't include these in my standard package and just as an optional extra. I'll also explain how you can make the most out of your engagement shoot, should you choose to have one.
Up until a few years ago, I included pre-wedding/engagement shoots as standard with my packages. I felt at the time that including this would mean the best possible service for my clients. However, I have since come to realise that a couples shoot is not for everyone. As I am a documentary style photographer, a lot of couples I work with absolutely hate the idea of being in front of the camera and book me because they know I will keep the posing to a minimum. To then suggest to them that they need to spend an hour with me before the wedding doing a lot of posing didn't really make any sense! However, some of my clients feel that this fear of the camera will be reduced by having some photographs beforehand. For this reason, I've changed my packages so that an engagement/pre-wedding-couples (whatever you want to call it!) shoot can be added on by those who would like it – and ignored like the plague by those who would hate it. In summary:
You don't need an engagement shoot if:
You're really not bothered about seeing yourself in photos before the big day. You look how you look and you're happy to embrace your beautiful self
The idea of spending an hour in a field being photographed fills you with dread
You have booked me to capture your wedding photographs pretty much entirely in a wedding photography style and are absolutely not bothered about any portraits or posed photographs
You might like an engagement shoot if:
You want to practise being in front of the camera so it will feel less scary on the day
You'd like some nice photographs of the two of you for your wedding invites/website
You want to mark your engagement with a special shoot
You want to see how you will look in photographs so you know before the big day
You want to have some portraits on the wedding day and would like to practise beforehand to find out what you might like
If they're not for you, that is – of course – absolutely fine! Don't spend your hard-earned money on something you're not going to enjoy or look at again. Your wedding photographs will still be absolutely amazing and my excellent banter and terrible sarcasm will be enough to put you at ease anyway. Stop reading here, go make a brew and put your feet up in non-engagement shoot decision smuggery.
If you think you might like one however, keep reading…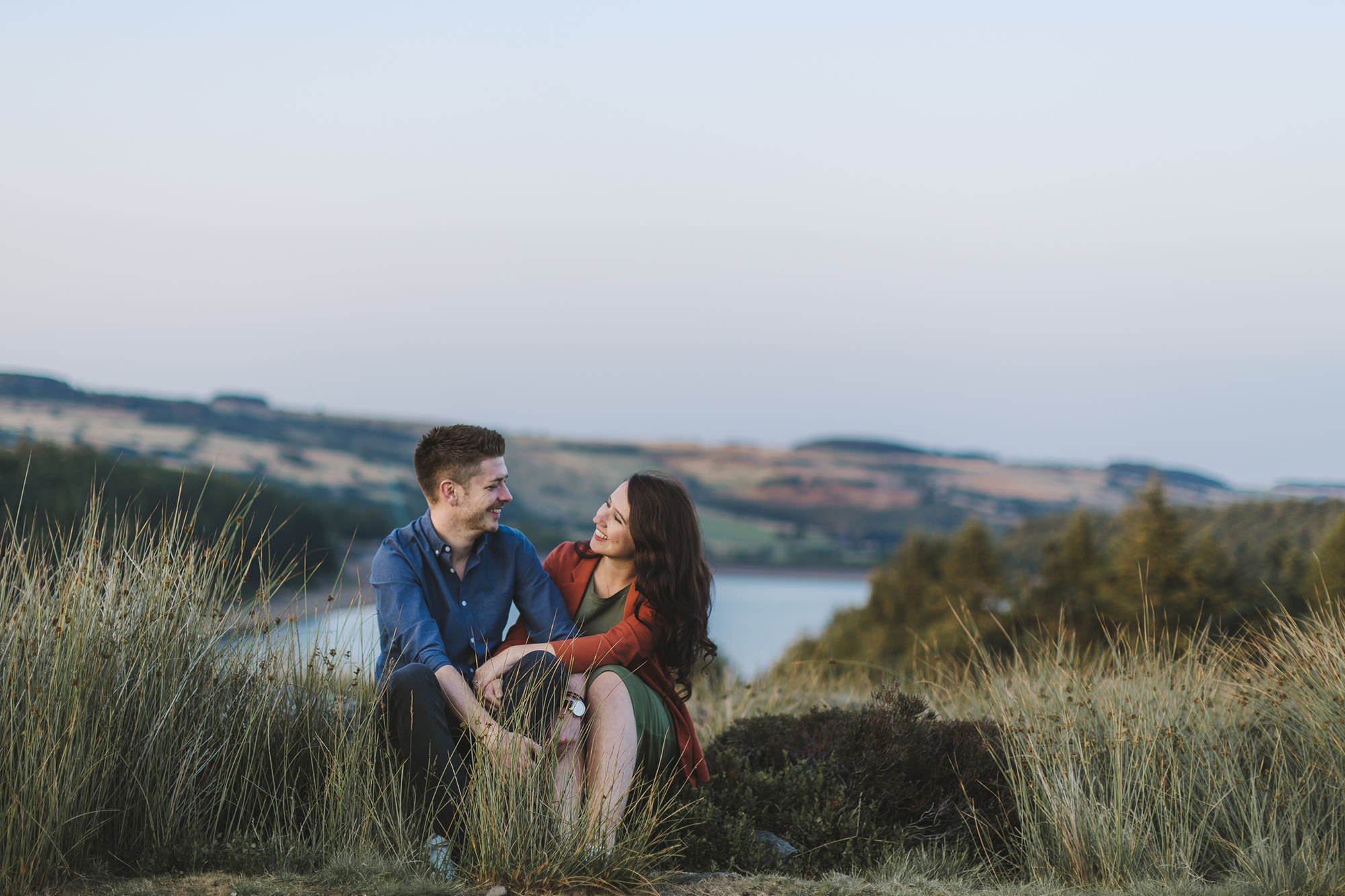 I personally really enjoy engagement shoots as it gives me a chance to get to know my couples more and be super creative. I promise we will have some fun (yes FUN!) getting you used to being in front of the camera. Here are my top tips to make the most out of an engagement shoot:
Where is the best place to have our engagement shoot?
I try and make sure the engagement shoot has a very different vibe to that of the wedding photos, so you have two unique sets of images to enjoy. So, if you're having a countryside wedding, I'd suggest heading to the city or the seaside to get something different. However, I think first and foremost you need to be comfortable. I absolutely LOVE a city centre engagement shoot but if that is going to make you feel like you're going to hurl because of ALL THE PEOPLE, then let's not put you through that! I don't tend to recommend busy public parks (the kind with play areas and football fields) because it's difficult when we have to keep stopping to wait for people in the background to move (while staring at them and hoping my telepathic communication is going to work!). Your home is a fab place for a shoot – you love it, it's where you relax and it hopefully really reflects your personality. If you want to head outdoors I recommend heading to some moorland or countryside.
How long before the wedding should we plan the shoot?
Obviously, if you are using the photos for your invites or website then it's best to get them done soon, before you're getting those ready. If you're having a shoot to practice in front of the camera then I recommend doing it about 6–8 weeks before the wedding. This way you have the images back well before the wedding.
What can we expect a shoot to be like?
As I said before, my aim is for us to have FUN! I have lots of little games and activities up my sleeve to help you both relax and smile. We will go for a walk and make stops along the way where I will snap away while you enjoy whatever task I've set you to do. Have a look through the images below to get more of an idea of what to expect.
What do we wear?
I get asked this a lot and the most important thing above all else is to be comfortable! Unless you are a Hollywood-level actor, your face will give it away if your feet are killing you. As well as comfort there are a few other things to think about.
Try and avoid clothes with big brand names, strong patterns or obvious logos – they can look really distracting. Choose blocks of colour that will compliment your surroundings – if it's a city centre you can add a splash of colour or go monotone for a more classic look. If your shoot will be in the countryside, try and compliment the seasonal colours (eg mustard in autumn, pastels in summer). If this makes no sense, please just drop me an email and I'll help! If we are heading into the countryside please be aware that you might get muddy.
How much is an engagement shoot?
An engagement shoot with me is £300. This includes a two-hour photoshoot at the location of your choice and a gallery of final images which you can download and print to your heart's content. If you're ready to book, just pop me an email at anna@annawoodphotography.com.
Can we see some example shoots?
I've put lots of images below to show you what you can expect. If you'd like to see a full engagement shoot gallery, please just email me and I'll happily share one with you.